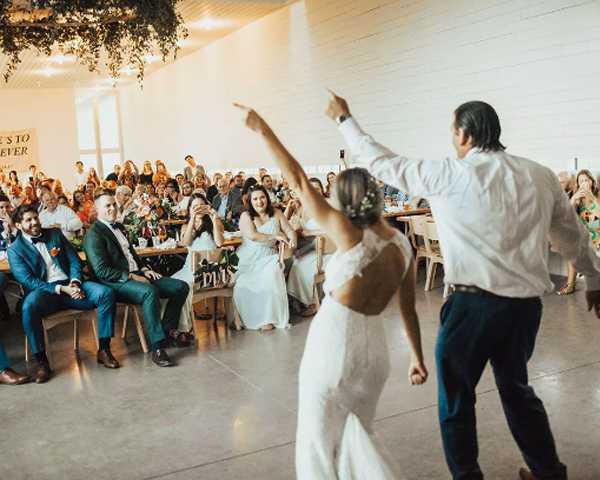 Image: Bethany Jeffery Photography
After meticulously planning every tiny detail of your wedding—everything from choosing your wedding venue to choosing your tableware, flowers, band, catering, and dress—you may very well be "all planned out". But what about your wedding entrance song? Most couples want to make a big splash as you enter the ballroom, because it's the first time they will be entering a room as a married couple…and that means finding just the right song.
At our banquet halls, we've seen a lot of grand entrances, so we know what tends to fly and what tends to flop. Here's our list of timeless wedding entrance songs that never fail to pump up the crowd and get the party started right.
1. "Crazy In Love" By Beyoncé
Who doesn't love a good song from Beyoncé? "Crazy in Love" makes the perfect upbeat anthem to lead newlyweds into the ballroom. No wonder it's number one on our list of wedding entrance songs.
2. "SexyBack" By Justin Timberlake
If we could have Justin Timberlake literally narrating our lives with his songs, we would. He's just that good. And his hit "SexyBack" really makes you feel…sexy! And that's exactly what you want to feel like on your wedding day. And trust us, everyone will start dancing to this one.
3. "Let's Get It Started" By Black Eyed Peas
The title says it all: let's get it started! What a way to kick off your reception with this upbeat song by the Black Eyed Peas. The lyrics are perfect for exactly what you're trying to accomplish—getting everybody to kick off your wedding bash!
4. "Thunderstruck" By AC/DC
While some might think this song works better as a football game entrance, we think it fits right in with our list of wedding entrance songs. Right off the bat, the iconic guitar sound will get you and your guests hyped up and ready for a night of partying. And that's exactly what you want your entrance song to do.
4. "Marry You" By Bruno Mars
While maybe not quite as upbeat as some of the other songs, it certainly is fitting for your big day. Plus, it's Bruno Mars! He definitely knows how to get a party started.
5. "Bring 'Em Out" By T.I
One look at how hyped up this couple is, and you'll know exactly why we added this to our list of wedding entrance songs! The opening lyrics couldn't be more fitting for your grand entrance.
6. "This Is How We Do It" By Montell Jordan
This may be an oldie, but it still makes our list of wedding entrance songs. From the moment you hear those iconic opening lyrics, "This is how we do it," right through to the end, you and your guests won't be able to help but get your dance on.
7. "Mi Gente" By J Balvin And Willy William With Beyoncé
Right from the jump, Mi Gente gets the blood flowing and will get your guests pumped up. Every time we hear this song, we can't help but start dancing—and that's exactly why we've seen so many couples choose this as their wedding entrance song.
8. "OMG" By Usher With will.i.am
Kick off your wedding entrance right with this classic song by Usher featuring will.i.am. The chorus is perfect to get you and your crowd hyped up for a night of fun and celebrating.
9. "All I Do Is Win" By DJ Khaled
Easily one of the most popular songs of the last decade, this hit from DJ Khaled still gets the crowd going hard every time it's played. If you want to create great energy for your wedding entrance, this song is definitely a contender.
10. "Safe & Sound" By Capital Cities
The lyrics to this song are beautifully romantic and fitting for a newlywed couple. "I could lift you up, I could show you what you want to see and take you where you want to be." Just perfect.
You want to kick off your wedding reception with a bang, right? The energy that you and your partner bring will pump up the crowd and set the tone for the evening. Selecting a ho-hum song for sentimental reasons might be your thing, but it's not going to get the crowd going. Make sure you start it off with energy by choosing one of these wedding entrance songs, or at least something with similar energy. 
And if you're still looking for the perfect wedding venue to celebrate in, please consider us at Vatican Banquet Hall.