The idea of hosting a winter wedding may be completely out of the question for some couples, but an exciting adventure for others. Most prefer to have their wedding in the spring or summer, when the weather is nicer and their guests won't freeze—however, there are couples who love the idea of having their big day during the winter, and perhaps even during the holiday season.
Planning for a winter wedding can be a little different than planning a spring or summer wedding. Many couples decide to incorporate a winter theme, which may include winter wedding signature drinks for guests to enjoy.
Let's take a look at some of the best signature drinks for a winter wedding that we've seen. These delectable delights will truly make your winter wedding stand out.
1. Chilled Coco Martini
Hot chocolate is the norm during colder months, but this winter wedding signature drink flips the script and serves chilled cocoa instead. Mmm!
What You Need:
1 cup milk
1 packet of hot chocolate mix
3 ounces whipped cream flavored vodka
1 ounce Buttershots caramel liqueur
Whipped cream or marshmallows
How To Make It:
Warm milk on the stove top and stir in the hot chocolate mix. Let the hot chocolate cool down to room temperature. In a shaker, add the hot chocolate, vodka, Buttershots caramel liqueur, and ice. Shake well and pour into a martini glass. Top it off with whipped cream or a marshmallow. Enjoy this sweet treat!
2. Salted Caramel White Russian
The White Russian is a favorite drink that is often requested at our events. This recipe adds a unique spin on it, and gives it a more festive feel with the addition of salted caramel.
What You Need:
Salted caramel sauce
Ice
Salt flakes
1 ounce Baileys Salted Caramel Irish Cream
1 ounce Amaretto
3 ounces half-and-half
How To Make It:
Add the Baileys Salted Caramel Irish Cream, Amaretto, and half-and-half to a shaker with ice. Shake well and set aside.
Drizzle the salted caramel sauce in a drink glass. Make sure to spin the glass in your hand as you drizzle with a spoon to get an even coating all over the glass.
Add ice into the glass and pour your mix in. Garnish with salt flakes, and enjoy this festive drink!
3. Sparkling Apple Cider Sangria
The cold winter season often calls for a hot cup of apple cider to warm you up on those frigid days. However, we're going to give a twist to the typical apple cider so you can serve it as one of your winter wedding signature drinks. This recipe serves eight guests.
What You Need:
1/2 cup of your favorite cognac
2 cups apple cider
1 bottle of your favorite sparkling wine (750 ml.)
1/4 cup of pomegranate seeds
How To Make It:
Making this delicious sangria is simple. Take a large pitcher and add ice to it. Add the cognac, apple cider, and sparkling wine to the pitcher, and mix well.
Pour the liquid into glasses, and garnish with pomegranate seeds. Some people also enjoy garnishing with apples that are sliced thinly into sticks. Enjoy!
4. Peppermint White Christmas
This winter wedding signature drink combines arguably the most iconic celebratory drink, champagne, with a symbol of the holidays—the candy cane!
What You Need:
1 bottle of your favorite champagne
1 bottle of your favorite white crème de cacao
Candy canes
How To Make It:
Take one of the candy canes and put it into a Ziploc bag. Crush the candy canes into a semi-fine powder that you can use to dust the rims of the champagne glasses.
Dip the rim of each champagne flute into the white crème de cacao, and then into the crushed candy canes to give the rim a good coating.
Fill each champagne flute approximately 1/3 of the way with the white crème de cacao, and top the rest off with your champagne. Finish it off with a candy cane to garnish it and give it the ultimate festive look!
5. Gingerbread Martini
Gingerbread is one of the quintessential winter flavors, and this winter wedding signature drink brings just that to the table! This recipe makes four cocktails.
What You Need:
4 ounces of your favorite Irish cream liqueur
4 ounces of your favorite vodka
2 ounces your favorite coffee liqueur
2 ounces gingerbread syrup (if you can't find any to buy, here's a recipe)
2 scoops softened vanilla ice cream
Whipped cream for topping
Small handful of crushed gingerbread cookies
How To Make It:
Combine the Irish cream liqueur, vodka, coffee liqueur, gingerbread syrup, ice cream, and ice into a shaker and mix well. Pour into chilled martini glasses and top it off with a sprinkle of the crushed gingerbread cookies and whipped cream. Your guests will go wild for this!
6. Ginger Apple Cider With Brandy
Earlier we mentioned an apple cider drink served cold. This apple cider drink is served hot, and it will warm your guests right up! This recipe serves four people.
What You Need:
3 cups of apple cider
4 ounces of brandy
1 tablespoon of thinly sliced ginger
2 whole allspice
How To Make It:
In a saucepan, bring the apple cider, sliced ginger, and allspice to a boil. Let it cool down for 10 minutes, then strain out the bits of allspice and ginger. Pour a half cup of the warm apple cider into a mug and add 1 ounce of brandy to it. Mix well, and enjoy the warmth!
7. Eggnog Cocktail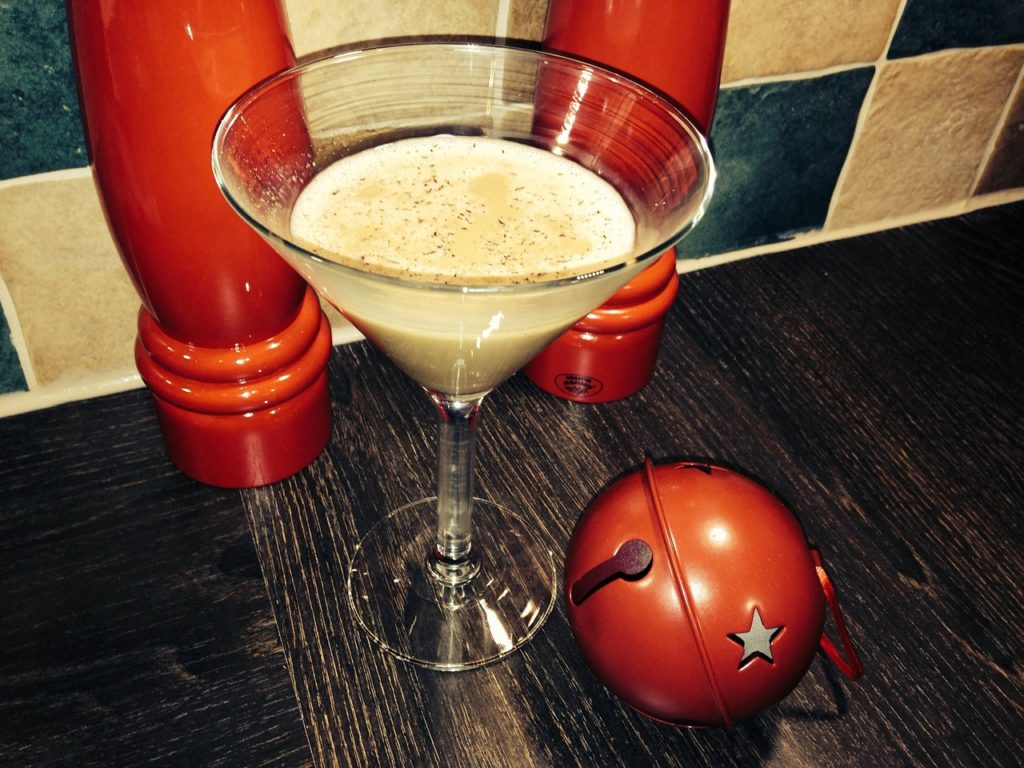 Eggnog is hit or miss for many people. But those that enjoy it absolutely LOVE when it's made into a cocktail, and it can really hit the spot for those who are into this seasonal treat. This recipe will make two drinks.
What You Need:
3 ounces bourbon

3 ounces white crème de cacao

6 tablespoons heavy cream

1 tablespoon super-fine sugar

Ground nutmeg for sprinkling
How To Make It:
In a shaker, add the bourbon, white crème de cacao, heavy cream, sugar, and ice. Mix well until the drink is nice and cold. Pour into glasses and garnish it with a powdering of the ground nutmeg, and enjoy!
Conclusion
What better way to make your special day feel festive with these great winter wedding signature drinks? These delicacies will add a magical and cozy touch to your wedding, so make sure to speak with your bartender and catering service so you can work together on something special. And as always, feel free to contact us for any help!