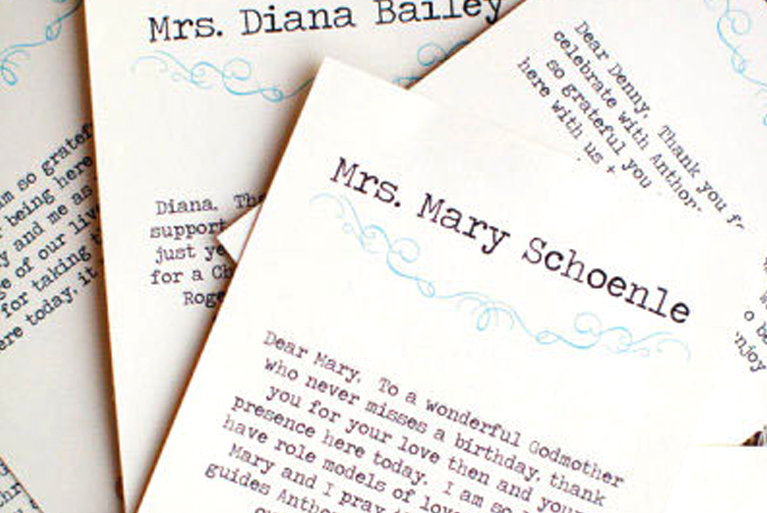 Wedding traditions such as the garter toss or a father-daughter dance can be fun and meaningful, but by this point, everyone has seen them done dozens and dozens of times. If you don't keep wedding traditions updated, they can get a little stale, no? Read below for some fun revision ideas for old wedding traditions.
The Cake Cutting
Here's the deal with cake cutting: it often interrupts the dancing, it's not that exciting, and the bride and groom usually don't really know what they're doing. Besides this, sometimes guests want cake NOW and don't want to have to wait for the big moment of cake cutting. Because of these reasons, more and more wedding couples are opting to forgo the cake cutting and either leave it to the caterers to cut and serve—or they provide multiple, smaller cakes. Some couples even use the multiple cakes as table centerpieces. Having multiple cakes is also a great way to ensure that all guests will enjoy the cake, since often they are different kinds. Chocolate, vanilla, gluten-free, dairy-free! Multiple cakes allows something for everyone, and no dull cake cutting.
Escort Cards
Escort cards help your guests find their assigned seat and table at the reception. A truly meaningful touch that more and more wedding couples are choosing to do nowadays is to include a personal note for each guest on each individual escort card. These notes can say what the guest means to the bride or groom, and why it's so special that they have chosen to celebrate this important day with them.
RELATED – See Also:
9 Ideas To Make A Bridal Shower Unforgettable
How To Get The Perfect Signature Cocktail For Your Wedding
The Father-Daughter Dance
Some fathers can't wait to get on the dance floor with their little girl and have this special moment. However, other fathers (who may not be as sure-footed) may be a little nervous about this wedding tradition. If this is the case, consider turning the father-daughter dance into a group affair by inviting all the fathers and daughters in attendance to join in at the same time. This can be very sweet, and can take some of the pressure off of a single nervous father.
The Bouquet Toss
If you've noticed this tradition missing from more and more wedding receptions, you're not alone. Many brides are bypassing the bouquet toss due to lack of participants (traditionally, only single women are supposed to try to catch it) or just because they find it silly. Many modern brides are choosing to instead give their wedding bouquet to their maid of honor or flower girl—or to preserve it for themselves.
These are just a few suggestions for putting a new twist on old wedding traditions. The important thing to remember is to make your wedding your own, and to include the traditions that are important and meaningful to you. If you're currently planning your own wedding and you're still hunting for the perfect Los Angeles wedding venue, take a quick look at our space at Vatican Banquet Hall and see if it's what you're looking for. You can also contact us for availability and other questions!