It's true that the wedding dress tends to take all the attention, but your wedding shoes should also be special. You should love them, they should go perfectly with the dress, and who knows—they may even steal the show if they're cute enough, right?
Wedding shoes will pull your entire bridal look together, and they can compliment your dress in a sensational way. But it's not enough to just buy a pair of shoes you love. There are quite a few things to keep in mind before purchasing a pair you love.
Take a look at our article below to find out what to do!
Don't Forget To Bring A Dress Swatch
When shopping for your wedding shoes, don't forget to bring a long a swatch of your dress fabric so that you can see how they look together. There are many, many different shades of white, and you don't want the dress and shoes to clash.
If you haven't found your dress yet, then definitely wait to purchase shoes. It's fine to shop, but don't make any permanent choices before buying your dress.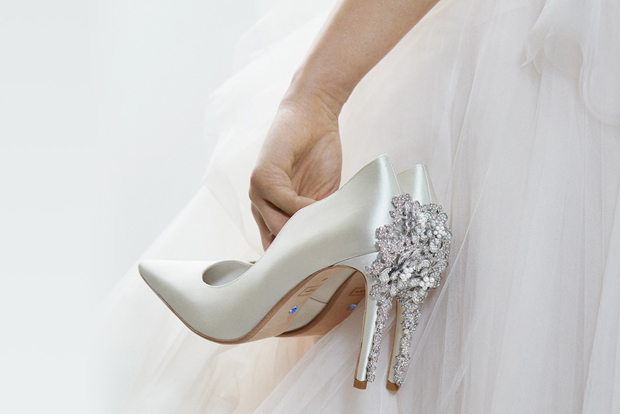 Image Source: weddingsonline.ie
Make Sure The Shoes Go With Your Dress
Another important reason to wait to get wedding shoes until after you find your perfect dress is to ensure that the styles go together.
For example, a vintage wedding dress will most likely not look good with white gladiator sandals. Bright blue stilettos might be an odd fit for a bohemian style dress. Be sure your wedding shoes and dress go hand-in-hand.
Consider the Heel
When shopping for the perfect wedding shoes, one of the most important things to keep in mind is the heel height. Consider the hemline of your dress, the height of the person you're marrying, and your own personal comfort.
You probably don't want to be taller over your partner, and you'll also want your shoes to match the dress length. They should also be very comfortable, as you'll most likely be wearing them for hours.
Color Can Be Perfect
While many brides opt to go with a white or neutral-colored wedding shoe, you can most certainly choose a colorful shoe instead. In fact, a bright wedding shoe can often add a lot of "pop" to your bridal look.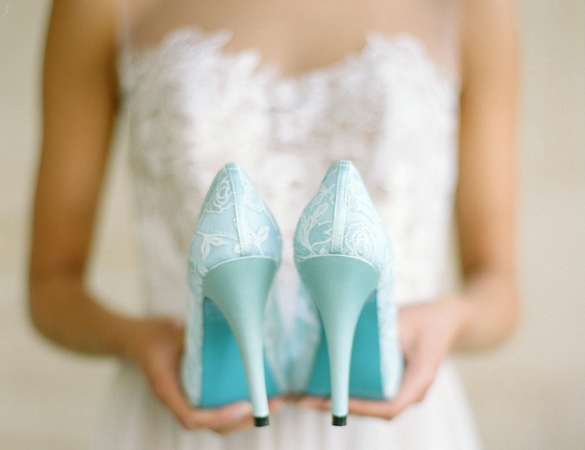 Image: thebridelink.com
If color isn't necessarily your thing but neither are neutral tones, consider a shoe with metallics such as silver, gold, or rose gold, which can beautifully enhance jewelry or wedding gown embellishments and help tie your look together.
What Kind Of Aisle Are You Walking?
If you're going to be walking down a non-traditional aisle, such as gravel, cobblestone, or granite tiles, very high heels can easily cause you to trip—and no bride wants that. Similarly, sand or grassy areas can cause your heels to sink into the earth.
Think carefully about the type of aisle your wedding venue has, and allow that to be a factor in what wedding shoes you select.
Are Heels Right For You?
Just because it's your wedding day doesn't mean you have to wear high heels, especially if you're not used to them. There are plenty of stunning options available for wedding flats or wedding sandals, which can be truly helpful if you're not a "high heel person".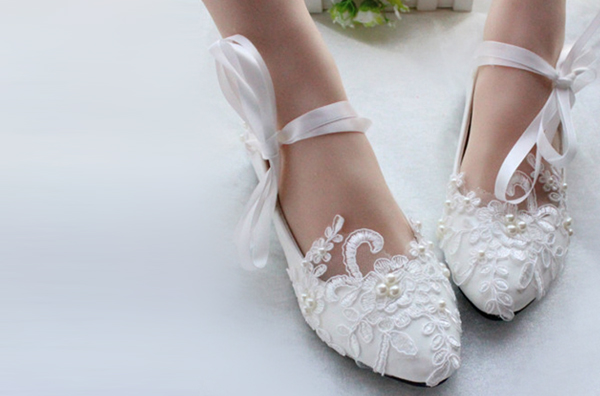 Image Source: artfire.com
If you're uncomfortable in unfamiliar heels, it's probably going to be noticeable during the wedding day. You'll either walk awkwardly or perhaps even fall. Or, at the very least, your feet are going to hurt. You don't need any of that on your wedding day! Go with comfort.
Hopefully this wedding shoe guide will help you during your hunt for the perfect bridal look. And if you're looking for a beautiful Los Angeles wedding venue, check out our gallery at Vatican, or contact us for an in-person tour!