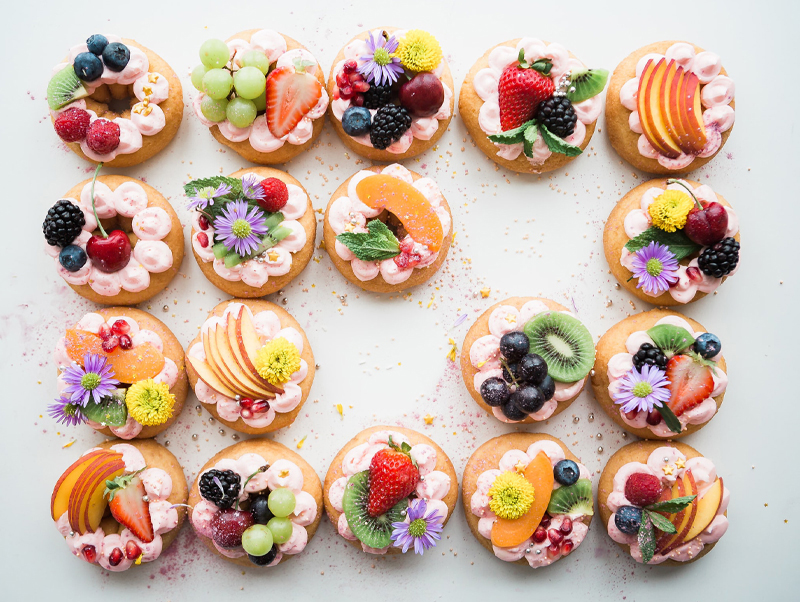 Thumbnail image via jayscatering.com
If you're engaged and planning your wedding, you may be thinking about the sweets to serve at your reception. Whether you've decided to have a wedding dessert table instead of a traditional cake or you'll be having both, it's important to know the steps to putting together a truly fantastic wedding dessert table.
However, putting together an incredible wedding dessert table isn't as simple as you might think. If you want to do it right, you can't just arrange a few cookies and candies on a banquet table and say that's that. There are visuals to consider, the desserts themselves, sizes, styles, and everything in between.
At Vatican Banquet Hall, we've had the opportunity to observe what makes or breaks a wedding dessert table, and we understand what can elevate it to next-level perfection. Let's take a look.
Tip #1: Choose Someone Who Actually Makes Good Desserts
This may sound obvious, but find someone who makes truly delicious desserts. Do a taste testing, and be sure to bring a few others along who have great palettes. During your taste testing, make sure that there are desserts that are both sweet and not-so-sweet, and that everything is tasty.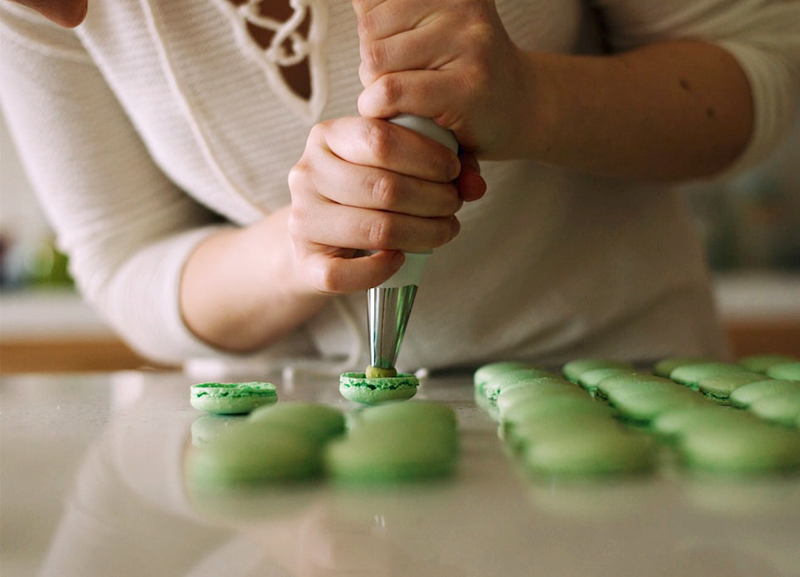 Many couples simply choose a dessert caterer or baker who provides beautiful-looking plates. They visit the vendor's website and fall in love with gorgeous photos and immediately decide to hire them. Don't do this. Choose someone who can do both: beauty and taste.
Tip #2: Provide Plenty Of Options
When organizing a wedding dessert table, it's important to make sure you provide something for everyone. Not everybody likes sweet desserts, so it's smart to choose a variety of tastes: fruit based, sweet, and perhaps even savory.
It's wise to provide between 3-5 different types of desserts. This is a good number, because if there's too many your wedding guests will get overwhelmed. People tend to take too many if there's more than five desserts, and then they are wasted because no one eats them all. It's a waste of both food and money.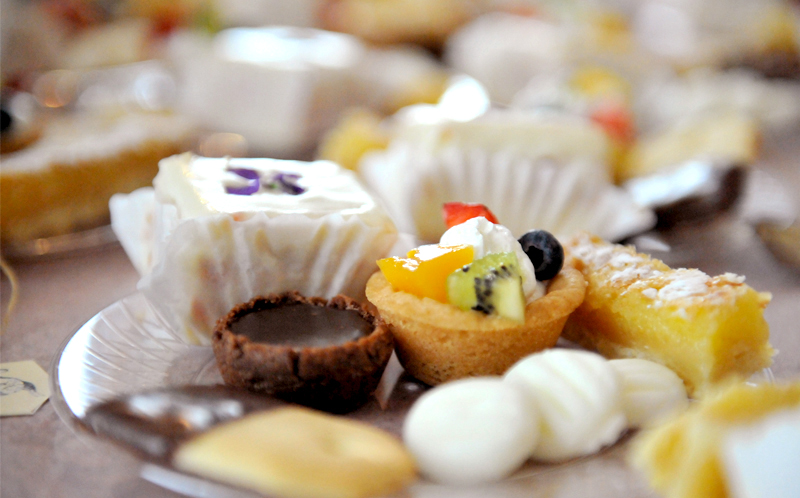 Image: porkchoptuesday.com
The best wedding dessert tables that we've seen include something chocolate, something with cream cheese, and something with citrus. It's also important to provide gluten-free and dairy-free options, as these are very common allergies.
Providing multiple options will please different tastes, and everyone will be delighted with the wedding dessert table.
Tip #3: Keep It Bite-Sized
When it comes to wedding dessert tables, keeping it bite-sized is best. Why? Because it cuts down on waste, and it also looks more attractive. Smaller, "cuter" desserts will create better-looking displays that will both impress guests and make gorgeous photos for your wedding photographer.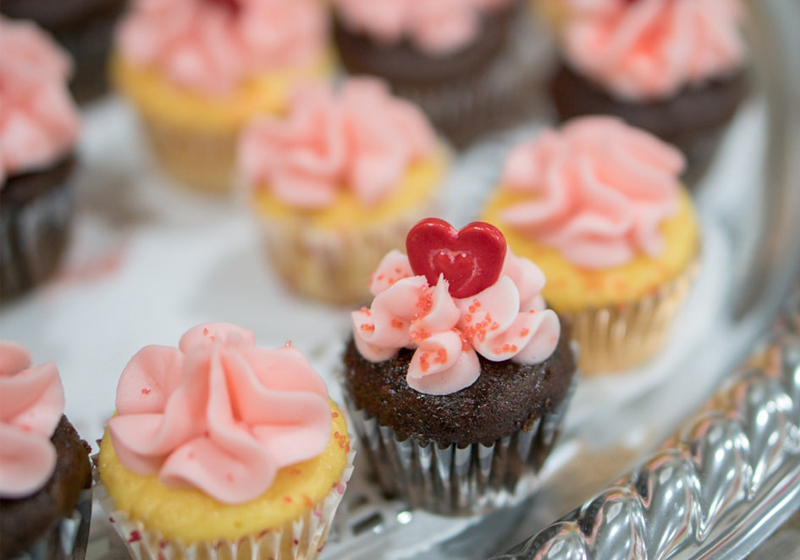 There's also less guilt involved with bite-sized desserts. Guests will be more likely to eat a bite-sized dessert than something like a big cupcake.
Tip #4: Make Sure It's Styled Well
This tip is very important. It's your reception after all, so make your wedding dessert table look as beautiful as possible. Whether you're doing it yourself or you've booked a dessert table vendor, ensure that the table's aesthetic is just as lovely as the rest of your wedding.
If you're putting together your wedding dessert table yourself, we recommend a mix of heights and textures, with the wedding cake firmly in the middle. Short, medium, and tall platters look amazing together, as well as a mix of metals, wood, white ceramic, and glass dishware. Other touches such as runners, frames, and crates work well too.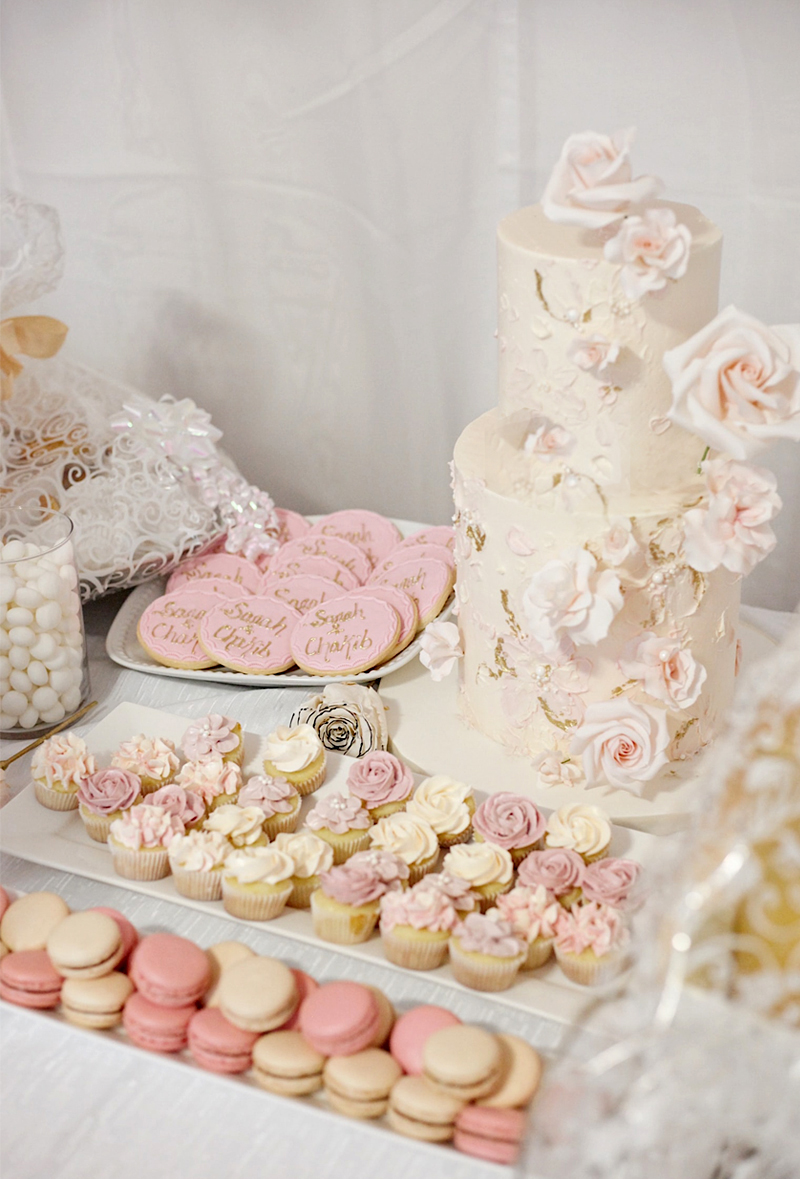 Another good idea is to decorate your wedding dessert table with flowers from the ceremony (such as chair swag or the bridesmaids' bouquets). Greenery and florals will help the table pop.
Tip #5: Have Informational Signs
This one is becoming more and more of a necessity. Have a small, pretty sign next to each dessert explaining what it is and if it's gluten-free or dairy-free. Trust us, your guests will greatly appreciate knowing what they are about to eat.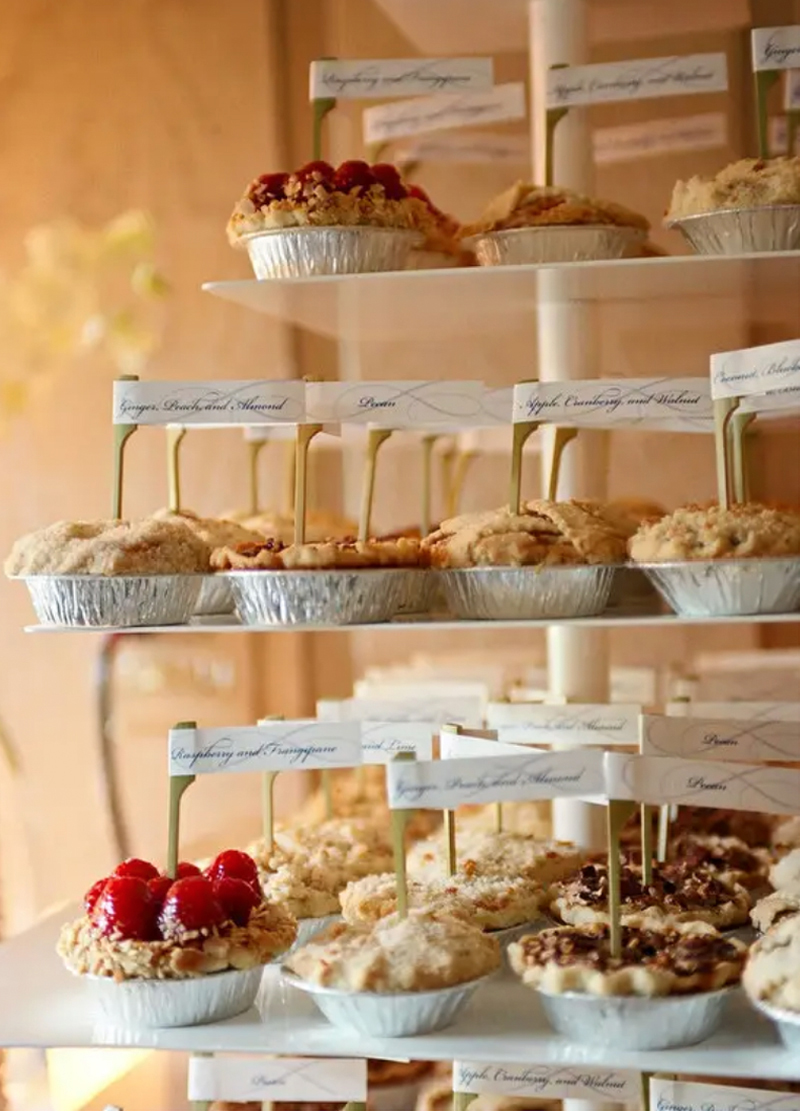 Image: taraguerardsoiree.com
Tip #6: Consider Having A Backdrop
You could have the most beautiful wedding dessert table in the world, but if it's set up in front of a not-so-pretty wall, then it's going to have a lot of its beauty sucked away. To combat this, consider having a dessert table backdrop behind the table.
A dessert table backdrop will polish out the overall look; plus it will draw your wedding guests' attention to the table.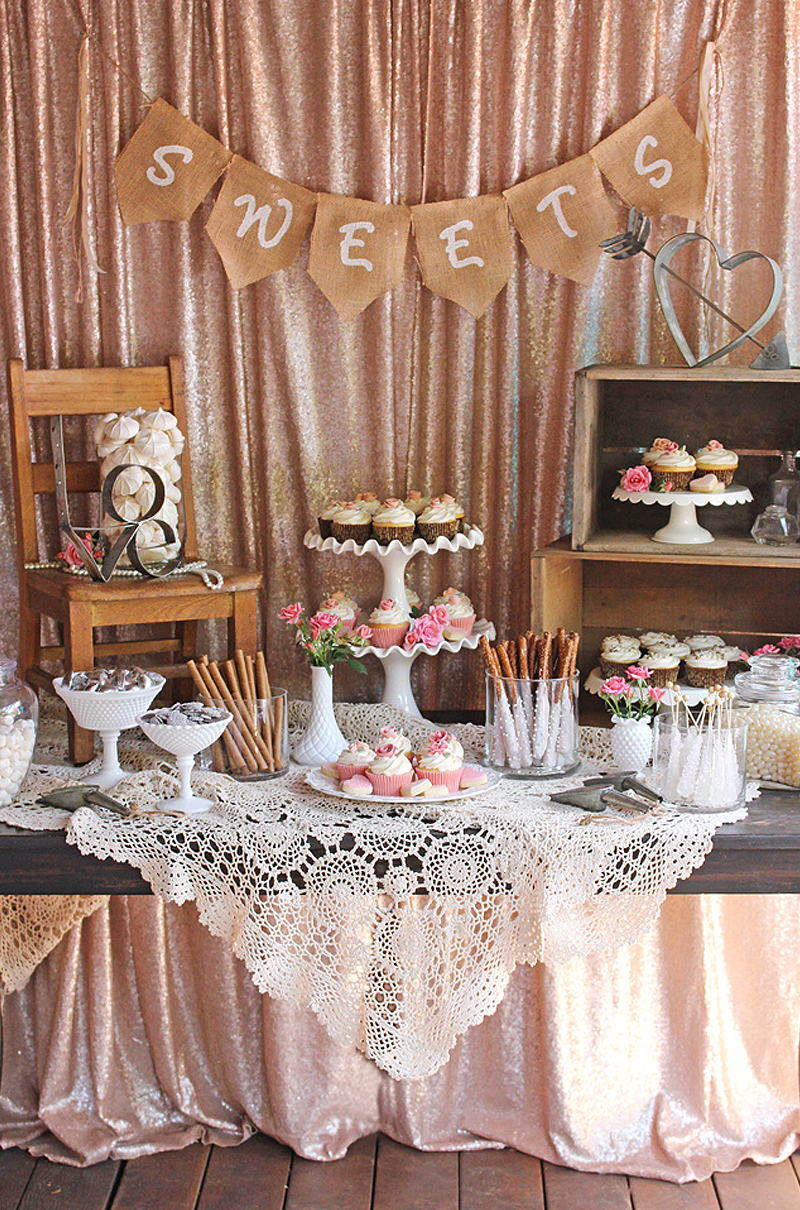 Image: glorioustreats.com
There are plenty of options for dessert table backdrops, from flower walls to curtains to colorful streamers.
Tip #7: Include Something Personal Or Your Theme/Colors
Let's not forget that it's your wedding, so the dessert table should include touches of your wedding colors or theme.
When it comes to colors, this could be as simple as using dishware of the same palette of your wedding, or your wedding flowers (as mentioned before).
If you want to incorporate your wedding theme, you could do it two ways: you can either use décor only (such as seashells if you're having a beachside wedding), or you could actually incorporate the theme into your desserts (such as popcorn if you're having a Hollywood-themed wedding, or white rock candy if you're having a winter wedding).
Or, if you don't necessarily need to incorporate your colors or theme, consider making your dessert table personal to you as a couple. Perhaps you include both of your favorite desserts, and have a sign explaining that these are your favorites.
Whatever you decide to do, remember to make sure that you love the desserts and the way your wedding dessert table looks!
Hopefully this article will help you put together an above-and-beyond wedding dessert table for your big day! Remember, people eat with their eyes first, so make sure it's beautiful and tasty. And if you're still looking for your perfect Los Angeles reception hall, consider us at Vatican. Take a look at our photo gallery, or contact us with any questions you may have!