Spring and summer are the most common times for baby showers, and as friends and family start having little ones, you may find yourself planning a few as well as attending them. If you're the host of a baby shower this summer, here are a few fun theme ideas to get your imagination going and help you create an unforgettable event for the mom-to-be.
Book Themed
Every mommy-to-be needs the practical items like diapers, burp cloths, and onesies, but chances are she'll receive those from family. You can make her shower something extra special by asking all the guests to bring a favorite book from their childhood. The soon-to-be mom will love receiving all these books that are close to the hearts of her friends and family, rather than getting more diapers.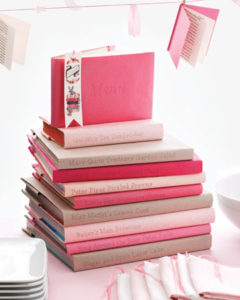 French Country
Just because you're hosting a baby shower doesn't mean it needs to be cheesy or all about the kids. It can also be soft and romantic. A French country shower theme exudes the long, lazy summer days spent in the countryside, where children play in lavender fields under a baby-blue sky. Decorate with soft colors, field flowers, and delicate edibles. You can also have fun with adding signs that say "bebe" and "petite."
Modern
Why not update tradition and go with a modern shower theme if that suits the mom-to-be? Choose colors you know the guest of honor will love, and not necessarily the same baby blue and pink. Think no-fuss comfort foods and why not consider inviting the dads and dad-to-be to celebrate? Who says a baby shower has to be a girl thing?
Adorable Daisy
What says baby shower more than daisies and sunny colors? Have fun with pretty hors d'oeuvres decorated with paper flowers and add real, edible flowers for flourish. You can set up a fun craft area where guests can create their own daisy chain necklace or crown. This is a perfect activity if there will be children attending the shower. Keep the sunny yellow theme through all of the food, décor, and add a candy bar with various yellow treats with take-home bags for favors.
Cherry Blossom
A perfect way to celebrate a springtime arrival is with a cherry blossom themed shower. Think pink in terms of color, offer pretty finger foods, and decorate with real cherry blossoms if you're lucky, or simply gather some large branches from your yard and decorate them with paper flowers.
Velveteen Rabbit
How sweet are soft, cuddly baby bunnies? The sweetest! Whether you loved the classic book as a kid or not, this makes for a super sweet shower theme and the book will be a perfect gift to the mom-to-be. Ask the other guests to bring books and help the new mom curate her little one's book shelves. This theme can also be turned down a notch in terms of "little kid" and made into an elegant, garden theme decorated with touches of rabbits, flowers, and soft colors.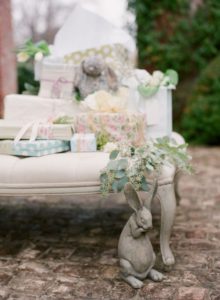 Vintage
Does the mom-to-be love vintage styles? Theme her baby shower to reflect her unique personality by decorating with vintage prints, muted colors, and treats and drinks from a bygone era. This theme is both elegant and baby-soft and you can even take it further by encouraging guests to dress in their vintage finest, and have their hair and makeup done in a 40's or 50's style. A vintage, silver rattle would make for a perfect gift for the mom-to-be.
If you're the host of an upcoming baby shower, have fun with the theme and surprise the honorary guest with something unexpected. Once you decide on the theme, you'll need the perfect venue. Check out the Vatican Banquet Hall who specializes in baby showers, weddings, and other social events.