The Pinterest explosion led the way for thousands of brides in recent years, but this year's wedding season is seeing brides more interested in creating a wedding that is all their own. Couples in 2016 want to walk down the aisle and party the night away in a way that showcases their unique personality, and that doesn't look dated or too trendy.
If you're craving to learn what's hot and what's not in wedding trends this year, keep reading and get inspired for your upcoming nuptials!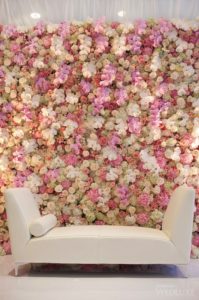 The Look:
Bright, Bold and Shiny. Metallic tones can be seen in almost every wedding magazine and for good reason: they are incredibly versatile and can be used for a number of wedding styles and venues. Metallics can be elegant, ethereal, whimsical, modern, and even boho. They can be used as little touches on the invites and on the tables, or they can be made front and center with glitzy, sequined tablecloths or runners, and bridesmaids dresses. Rose gold is an especially popular metallic and can be seen gracing everything from the bride's ring to table linens. Bold colors are also being used by themselves or paired with metallic for more playful wedding themes.
Use bold hues to add pops of color to otherwise soft, neutral palettes. A trendy color theme is pastels, creams, and garden greens, and many brides are adding in sunny yellows, bright oranges, corals, and vibrant fuchsias to make a statement.
The Flowers:
Wild and Free Form. The "I just picked these from a garden" floral arrangement and bouquet are seriously on trend for 2016. More brides are moving away from the sleek, perfectly rounded bouquets and want a more whimsical, romantic look and feel. The rise of "going green" is another catapult for this trend since many brides are interested in using what is currently in season and local to their area.
Many brides are also choosing less-traditional "flowers" for arrangements and mixing in edibles like kale, cabbage, and herbs like mint and basil into bouquets, centerpieces, and boutonnieres. Succulents are still trending as well and are especially popular for edgier brides.
The Dress:
Less Wedding, More Oscar-Ready. Brides nowadays are more willing to bend the traditional rules of the wedding gown. More are turning towards sexier and risqué styles and turning away from cupcake shapes. Modern brides are interested in showing off their curves and their personalities. Form-fitting silhouettes and open backs will be seen more and more in 2016 in magazines and family weddings alike. It is always advisable, however, to choose what you feel most comfortable in rather than trying to stay on trend. If you love the classic wedding dress look, great. But if you're excited to make a fashion statement rather than be another blushing bride, go for it!
The Food:
Home cooked and Ethnic. More and more couples are leaving the typical wedding food behind and are giving their guests a treat by making comfort food front and center on the menu. Think miniature hamburgers, mac and cheese, mini grilled cheeses, and even milk and cookies. Couples are also choosing to focus less on fancy food and go with cuisine that is traditional to their heritage. Southern dishes, Polish cuisine, and homey Italian make for a more personalized event depending on the couple's family's background.
The Reception:
Family Style. With couples wanting a "homier" and more personalized atmosphere at their wedding, family-style dinners with long rectangular tables will be growing in popularity throughout this wedding season. However, long skinny tables mean less room for décor and food platters. Many couples are adding chef stations and dessert tables to spread out the food and create a more relaxed experience for guests without having to do assigned seating.
Other 2016 wedding trends include destination weddings and mixing various styles. Many couples are choosing to skip an elaborate home-based wedding and want something exciting, fun and fresh in a tropical location or up in the mountains. And as far as décor and theme ideas go, brides are mixing modern elements with vintage and farm-style décor. This year, if you're going to be a wedding guest, expect to be wowed by a reception that combines farm tables, vintage plates and seating, geometric centerpieces, and glamorous chandelier lighting.
If we had to pick a theme for 2016 weddings, it would have to be: Be authentic and have fun! And we can't imagine a better slogan.
For a unique and beautiful venue to set as the backdrop for your personality-filled wedding, check out the Vatican Banquet Hall in Los Angeles.