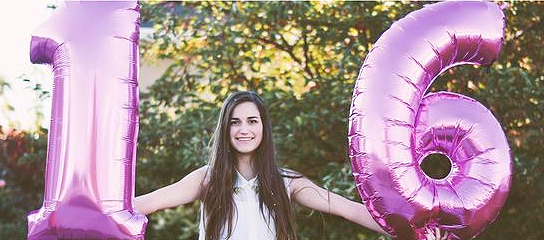 We all know that a Sweet 16 party is more than just a regular birthday party.  It's a celebration of her entering womanhood, and a celebration of a girl's life thus far. It's a gathering where everyone can celebrate exactly who she is and what makes her unique.
However, when planning a Sweet 16 party, it can quickly become confusing on where to begin. You may find yourself drowning in a sea of planning. If that sounds like you, then here's a step-by-step guide on how to throw a Sweet 16 for your daughter that is as spectacular as it is unforgettable.
Plan The Guest List
This is an area where you will definitely need to ask your daughter what she wants. She may ask for a large Sweet 16 party with lots of guests, or she may prefer only her nearest and dearest handful of friends to attend. It depends solely on her personality type and what she wants—so make sure to work on the guest list together, while keeping your budget in mind.
As for the invitations, this can be an area that's very fun. The invitations are the first alert and impression of your daughter's Sweet 16, so they should stand out and reflect how much fun the party is going to be. They also need to match the party's theme, so make sure to decide on what the theme will be before ordering or making invitations. It's also important to send them out in enough time to allow guests to plan for it (3-4 weeks is a good amount).
Pick A Theme
Whether it's her favorite band, movie, sports team, city, era, or maybe even just her favorite color, your daughter's Sweet 16 theme should be something that she's excited about, and should be something that reflects who she is at this time in her life. If she's unsure of what theme to go with (unlikely!), there are some classic fail-safe ideas that are always fun, including "glitter and gold", "vintage", "starry night", "rock star/celebrity", "masquerade", "glamour", "pretty in pink", or "luau".
Choose The Entertainment
As another area that will be up to your daughter, the entertainment should go hand-in-hand with her personality. For example, many girls want a band or a DJ for their Sweet 16 so that their guests can dance. But your daughter may want to simply create her own music playlist for the party. Or she may not be into dancing at all. She may prefer a completely different type of entertainment, like a comedian or a sketch artist. Ask her what sort of entertainment she'd like, and go from there. The decision should match her interests and, if possible, the party's theme.
It's also smart to consider fun things that always work at a party—things like photo booths, games, a "palm reader", etc. You may want to add one of these to the mix, and sometimes one of these is all you need to ensure that guests have fun.
Determine Décor and Venue
Sweet 16 decorations is an area where you (and your daughter, if she wants to help) can be very creative. This is one of the most fun and memorable parts of a Sweet 16 party. Obviously, the decorations should coordinate with the party theme, and Sweet 16s are known for being colorful and girlish. A good events venue will also help with décor suggestions, and there are also thousands of great ideas on Pinterest to inspire you—both DIY and otherwise.
Because a Sweet 16 is such an important event, finding just the right venue can be an overwhelming process. But there are certain amenities that you should seek out in order to make your planning easier. A good events venue should include plenty of space for guests, tables and chairs, in-house catering, customizable décor, a stage, and of course, a dance floor.
Plan The Food
Food is a major part of a Sweet 16 party. If you haven't noticed, teenagers really love to eat. If you're holding the Sweet 16 at an events venue, it's a good idea to book an events venue that provides in-house catering. The type of food you plan is another area where you can get creative and choose things that match the party theme—although some parents prefer to do this only with the desserts. Make sure to include the birthday girl's favorites. If she's partial to s'mores, consider including a s'mores-making station. If she's addicted to popcorn, think about having a popcorn punchbowl. Food at a Sweet 16 should be bright, pretty, and most important, delicious.
Involve Your Guests
A Sweet 16 party is almost like a time capsule—it exhibits your daughter's specific interests and hobbies at this exact time in her life. And of course, her friends be part of the time capsule, too. And what better way to capture this than having the guests all sign something for her? Whether it's a matted photo, a big mirror, or a splashy guestbook, having a keepsake of Sweet 16 signatures and messages is a must. Some girls even choose to wear a white dress for everyone to sign so that she can walk around wearing her messages.
Another idea your daughter will love is a Memory Jar. Provide paper and pens, and have guests write down a favorite memory that they have about the birthday girl. These memories are gifts in themselves, and will mean so much to your daughter. The Memory Jar can also be adjusted to match the party theme. For example, if she chooses a "rock star" theme, she can have a Memory Guitar Case. If she chooses an "old Hollywood" theme, she can have a Memory Top Hat turned upside-down, and so on. You can even take this a step further and have the birthday girl read these memories out loud sometime during the party, and try to guess who the memory is from.
Don't Forget Party Favors
There are literally countless choices when it comes to party favors for a Sweet 16. If it's convenient, the favors should match the theme of the party (for instance, an airbrush artist for an "80s" theme would be good), or you can even choose to make the favors yourself, like simple goody bags.
And Above All…
While planning your daughter's Sweet 16, be sure to ask her questions to ensure the party fits what she wants. Communication with her is key during the planning process of this milestone event in her life.
At Vatican Banquet Hall, we are your Sweet 16 party planning experts! To see one of the best events venues in Los Angeles for Sweet 16 parties, check out our gallery. Please also feel free to ask about our pricing and availability. We would love for you to become another one of our satisfied guests!
For more tips on Sweet 16 planning, check out this video: