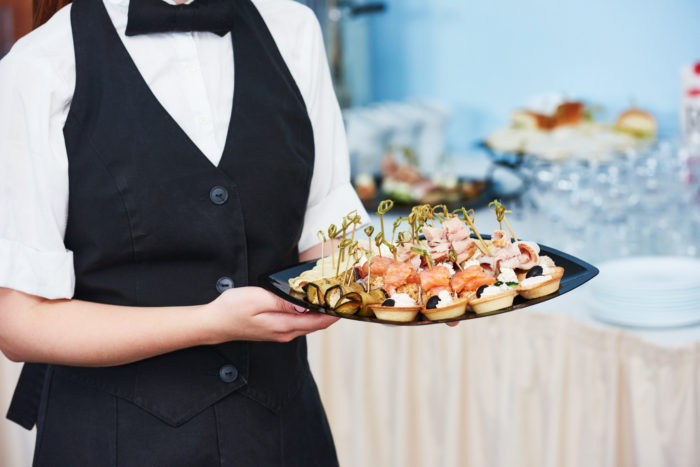 Whether you're planning a wedding reception or a corporate event, finding a great event catering service can be quite the challenge. Many caterers claim they offer delicious food, but end up bringing the same drab dishes to your event, ultimately disappointing your guests with mediocre food. Thankfully, things don't have to be that way.
Finding a delicious event catering service is tough, but not impossible. And if you need some assistance, Vatican Banquet Hall is here to help. Our event experts have compiled some tips and advice on how to pick a great catering service for any type of event, helping you please your guests with ease.
Take a tour of Vatican Banquet Hall in the video below: 
See If Your Event Venue Offers Catering
When starting your event planning process, it's always worth checking to see if your event venue offers catering services. Working with a venue's in-house catering will make the process as smooth as possible, providing extra service that other catering companies can't provide. You'll also feel at ease knowing that all your cooking will happen on-site, offering your guests some of the freshest options available.
If you book an event with Vatican Banquet Hall, you'll be able to take advantage of our world-class catering service, which offers a host of dining options perfect for any event.
Stick To Your Budget
You might want to go all-out when it comes to your catering menu, but remember, you need to stick to your budget. Catering will be a big chunk of any event budget, and going overboard on your catering will take away funds from other important aspects of your event.
Pick A Menu That Fits Your Event
Different types of events need different types of food. If you're holding a corporate gala, you'll want some elegant, high-class meals. But if you're holding a birthday party, you might want some more hearty, decadent dishes. Consider the type of atmosphere you want to have at your event and design dishes that fit that style.
Of course, you also need to think about what types of food you know your guests will enjoy. If there's a guest of honor, consider adding some of their favorite dishes to your catering menu.
For more event planning tips and advice, check out the blogs below: 
Check You Caterer's References
Think of hiring an event catering service as hiring a new employee for your company. When hiring anyone, you always want to check their references. Be sure to ask your potential caterer for references from previous clients, that way you can ensure their services live up to the hype. If your caterer has great references, you know you've chosen a true professional. And if they have bad references, or are apprehensive about providing them, you should likely find another catering company.
Hold A Tasting Before Your Event
Most catering companies will include a tasting before your event as part of their services, something you should definitely take advantage of. A tasting will give you a chance to provide your caterer with requests or suggestions before your event, ensuring that the food on the day-of meets your expectations.
Your event deserves delicious catering, and with a thoughtful, measured approach you're bound to found a truly exceptional event catering service. Of course, you'll also need a location for your event, and if you're looking for a versatile event venue in Los Angeles, you should consider Vatican Banquet Hall. Our event venue is perfect for weddings, corporate events, social gatherings, and more, with luxurious decor and affordable amenities fit for any budget. For more information on booking and availability, contact Vatican Banquet Hall today.