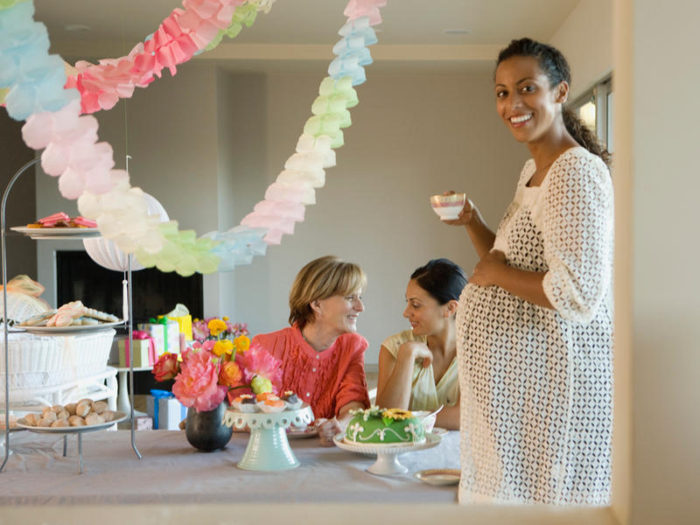 The arrival of a new family member is a momentous occasion, and a baby shower is the perfect way to celebrate. But planning a baby shower can be pretty tough.
If you need help planning your baby shower, you're in luck, because the event experts at Vatican Banquet Hall are here with some advice. Check out our baby shower planning checklist and get your party planning started.
10 Weeks Before
+ Determine the host — Many baby showers are hosted by the mom-to-be and a close friend. If you don't want to handle the entire party on your own, consider asking one of your closest friends to help host the event, that way you don't get too stressed leading up to the part.
+ Set A Budget — You don't want to overspend when you have a baby on the way. Be sure to set a budget for your shower early and stick to it, helping you save plenty of money along the way.
+ Pick A Party Venue & Date — The most important aspect of your baby shower is the location and date. Decide when you want to have the party far enough in advance to be able to visit and ultimately book a great event venue.
+ Make Your Guest List — You can't have a party without guests! Compile a list of loved ones, friends, and family that you want at your baby shower so you have a general idea of how big the party will be.
Take a tour of Vatican Banquet Hall in the video below: 
Six Weeks Before
+ Send Out Invitations — You want to give your guests enough time to mark your baby shower in their calendars and respond before the party. Sending invitations six weeks before the event is perfect timing. You can even send emailed invites or create a Facebook event for the party to get some faster responses!
+ Plan Your Party Menu — Everyone loves party food. Find some delicious easy recipes you can make yourself or consider getting your baby shower catered. And if you're planning for someone else, be sure to consider what foods the guest of honor loves.
+ Purchase Decorations — You don't want to host a drab baby shower. Spice things up with some fun, colorful decorations. You can even use a DIY decoration guide to inspire some fun ideas.
One Month Before
+ Find Some Extra Party Help — The day of the baby shower could be pretty hectic. As it gets closer to the event, enlist some extra help from close friends for final preparations.
+ Order Your Cake & Desserts — Delicious desserts will make your party shine. Place your bakery order about a month in advance to ensure you get your order on the right date.
+ Prepare Party Games — Party games are a staple at any baby shower. Decide which games you'll want to play and gather the materials you'll need ahead of time.
Two Weeks Before
+ Follow-Up With RSVPs — Some people like to take their sweet time when it comes to RSVPs. Check to see if those you haven't heard from forgot, or if they actually won't be attending.
+ Find A Photographer — You'll want to capture some memories during your baby shower. Pick one of your friends to be the "designated photographer," that way everyone isn't stuck in their phones the whole time snapping pics.
+ Put Together Goody Bags — Let your party guests you appreciate them with some fun goody bags.
The Day Of The Party
+ Get To Your Party Venue Early — You want to make sure your event venue is set-up properly, so you should head over a bit early.
+ Have Fun! — It's your baby shower! You won't have the time to see all your friends and party it up once your baby arrives, so be sure to relax and have fun when you can.
Planning a baby shower can be tough, but if you start far enough in advance and get some help along the way, everything will go fine. And if you're looking for an event venue in the Los Angeles area, consider Vatican Banquet Hall. Our event venue offers world-class accommodations that fit any budget, providing the luxury you need for weddings, baby showers, social events and more. Contact Vatican Banquet Hall today for more information on booking and availability.