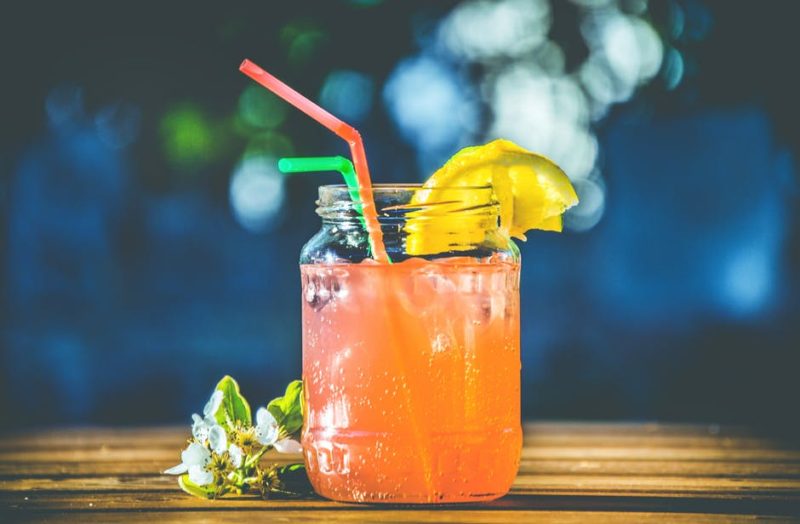 Plenty of couples these days decide to offer their guests a signature wedding cocktail. This is yet another element to the special day that can be customized (along with the napkins, cake, hashtags, you name it). Plus, by having a signature cocktail for your wedding, a couple can offer their guests a little something more interesting than the run-of-the-mill wine and beer—and they can always have their own personal cocktail on special occasions, such as anniversaries.
But where do you begin when choosing a signature cocktail? What exactly goes into it? Here are the things you'll need to get started.
Personalize It
So what makes a cocktail "signature"? Some couples choose a recipe using their favorite spirit. Others choose a drink that matches their wedding colors. Or it can be the drink you had together on your first date. Above all, the signature cocktail for your wedding should be a drink you both actually enjoy the taste and look of. It should be a drink that you're excited to share with your guests, and one that you'll be eager to have on your anniversary for years to come.
Embrace The Season
If you're not quite sure where to begin with your signature wedding cocktail, think about the season in which your wedding is taking place. Springtime cocktails can include delicious fresh fruit, herbs, and bright colors. For summer, think sangrias, tangerinis, and appletinis. Autumn drinks can have hints of apple or pear, or perhaps be a type of cider. For winter weddings, think about sweet or peppermint drinks, or warm spiked ciders with cinnamon sticks.
Designs And Colors
Imagine a roomful of your guests walking around with matching Blushing Ingénue cocktails, salt air margaritas, or cotton candy champagnes. Having a unique-looking signature cocktail for your wedding will almost "brand" your wedding reception. This is why it's fun for a lot of couples to get creative with signature drink garnishes, colors, cup types, and designs.
Have Fun With The Name
One of the best parts about having a signature wedding cocktail is getting to name it. This allows the drink to truly feel like it's yours, and it allows a little creativity. However, if you get stuck and can't come up with a name for your drink, here are some helpful tips:
Name it after your new last name. The Mendoza Margarita. The Adams Appletini. The Babyan Bloody Mary. You get the point!
Name it after the location. This goes especially if you're having a destination wedding or getting married in your hometown. Incorporating the city or town is a very personalized idea.
Name it after your interests. This is more for His & Her signature drinks, but you can incorporate your hobbies or career into your drink. For example, if the bride is a writer, the drink can be called The Write One. If the groom is a photographer, his can be called Oh Snap!
Name it after your wedding theme. If the wedding colors are pink, the signature drink can be called anything from Tickled Pink to Blushing Bride to Rosy Future (as long as the color of the drink is actually pink). If you're having a beachside wedding, try something like Mai Tai the Knot.
Details To Remember
While the signature cocktail for your wedding should be completely up to you (it's your wedding day, after all), it's important to keep certain things in mind. For example, if you're having a December wedding, margaritas may feel a little out of place. If your cocktail requires berries, are they in season in the town where you are? Do you want to provide a "mocktail" version of your signature drink, and if so, will it taste right without alcohol?
Go Local
Wherever you're getting married, chances are there are local breweries, wine distilleries, or cocktail bars with signature drinks. This may be a great way to get inspiration, or you can simply select your favorite from one of these places! They might even whip up something special just for your wedding—you never know!
Consider His & Hers
Sometimes couples decide to have two signature cocktails instead of a joint wedding cocktail. The bride chooses one and the groom chooses one. This is called "His & Her" cocktails, and it gives wedding guests the option of either one. (Or hey, both!) If you choose to do His & Her cocktails, try to go with colors that compliment each other.
More on creating a signature cocktail for your wedding:
At Vatican Banquet Hall, we've seen some pretty amazing signature wedding cocktails. If you're thinking about your signature cocktail because you're planning your wedding, be sure to check out our incredible Los Angeles wedding venue for your wedding! We provide a gorgeous atmosphere, outstanding catering options, and the absolute best in customer service. We can even help with the wedding plans. Check out our photo gallery, and be sure to ask us about availability and pricing!