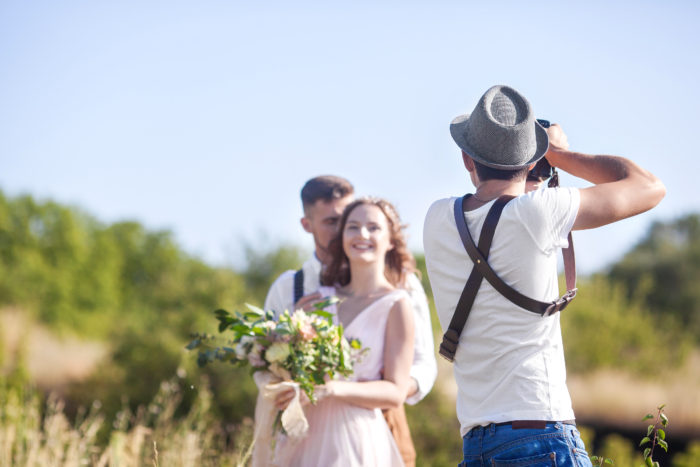 Congratulations! You're engaged to the love of your life and gearing up for the perfect wedding celebration. Your wedding is bound to be a memorable day, and one of the best ways to keep those memories alive for years to come is with some expert wedding photography.
You'll want to capture all the big and little moments of your wedding, and nobody will do that better than a professional photographer. But how do you go about picking the right pro? Well, the team at Vatican Banquet Hall is here to to help with a useful guide of questions to ask your wedding photographer.
For more wedding photography tips, watch the video below: 
Are You The Photographer Who Will Shoot My Wedding?
It's easy to assume that the person you're talking to is the person that will shoot your wedding photos. But remember, many wedding photography companies employ numerous professionals they send to various events based on availability. You'll definitely want to meet with the photographer who will be at your wedding before the event, and it's worth confirming who exactly you're dealing with during initial conversations.
What Types Of Photos Do You Take?
Photography is a form of art all its own, with different artists employing different techniques to capture their unique imagery. When you meet with a potential wedding photographer, be sure to to get a sense of what their specialties are. If you want formal photos, you probably shouldn't hire a pro who specializes in candid shots, and vice versa. Getting a sense of your photographer's style will ensure you get great wedding photos.
Do You Have A Wedding Photography Portfolio?
How can you judge a photographer without checking out their work? Checking out your possible wedding photographer's portfolio will give you a great sense of their style, and inspire some ideas for your own wedding photoshoot. And if you see a portfolio filled with bad pics, then you'll know you need to find another photographer.
For more wedding planning tips and advice, check out the blogs below: 
What Photography Packages Can I Get?
Most wedding photographers don't just show up and take as many photos as they can. Instead, they offer special packages including different types of photos and varying numbers of shots. You want to get the most value you can with your wedding pictures, so it's worth taking the time to negotiate the proper wedding photo package before deciding on a photographer.
Do You Have Any References?
Any working professional needs to provide references before landing their next job, and that idea holds true for photographers too. Be sure to ask your potential wedding photographer for references from previous clients. If they have glowing references, you know you've found a great professional. And if they have bad references, then you'll be able to dodge a bullet and find someone better.
What Info Do You Need Before My Wedding?
Most of your photographer interviews will center on what they can provide for you. But remember, once you've decided on a photographer you need to give them some details. Be sure to check-in with your wedding photographer before your event to ensure they know where they need to be, when they need to be there, and have any other pertinent info they might need.
Finding the right wedding photographer can be tough, but if you go into the process with a level-head and a strong sense of what you're looking for, you'll end up with marvelous wedding pictures. And if you're looking for a wedding venue in Los Angeles, you'll want to consider Vatican Banquet Hall. Our event venue offers exceptional accommodations and beautiful decor perfect for wedding receptions, photoshoots, anniversaries and so much more. Contact Vatican Banquet Hall today for more information on booking and availability.