The last few weeks before your wedding are filled with the little details that can mean the difference between an event that runs smoothly and a day full of headaches. The bride that pays attention to the last minute details and makes sure that loose ends are tied up will have a relaxing and memorable day. Here are ten last minute details that you shouldn't forget in your wedding plans.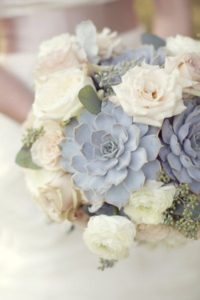 Final Dress Fitting
This seems like a no-brainer detail, but making sure that you get that final dress fitting scheduled with plenty of time for any last alterations is a big deal. You should give at least a week for any final fixes. If you want to have your dress cleaned and pressed before your wedding, plan for that final fitting no less than two weeks out.
Pick Up Rings
This can be a great task to hand over to your groom. Make sure that you know the hours for your jeweler and don't wait until the very last minute. Pick up your rings a couple of days before your wedding. That will give you time to look over your rings and make sure that all details are right, and that they fit correctly. This is also a great opportunity to have your engagement ring cleaned so that it sparkles beautifully for your wedding day photos.
Finalize Headcount with Caterer
A week or so before your wedding, get with your caterer to finalize the number of guests. This is also a good time to make sure that menus are set and that any special dietary needs for your guests can be accommodated.
Confirm Delivery Times
It would be really stressful to have a cake that doesn't show up, or flowers that don't arrive in time for photos. Take the time to confirm with vendors that are delivering food, flowers or other items for the day, the delivery time that you have scheduled with them. This is a simple task that will alleviate many wedding day headaches.
Finalize Ceremony and Vows
Sit down with your groom and make sure that you have all of the details for your ceremony worked out, and that your vows are complete. Once you are both happy with the ceremony and vows, meet with your officiant and make sure that they understand your plans and that there is nothing difficult or confusing about the ceremony.
Create Your Music Playlists
A few weeks before your wedding is a great time to figure out what songs you really want played at your wedding. Don't forget songs for your first dance, dances with parents, and any fun songs that get your guests moving. Make sure that you coordinate with your DJ or band to make sure that they have the song list and let them know the order that you want the songs to be played.
Assign a Point Person
The last thing you want to do on your wedding day is answer a ton of questions from venue staff, catering staff, florists and other vendors. Select a person that is close to you, and is detail oriented that can take your place on your wedding day, and deal with questions and help vendors with last minute details.
Confirm Backup Plans
This is especially important if you are planning an outdoor wedding or reception. Make sure that you have a backup plan just in case the weather is uncomfortable. Confirm these plans with your contact at the venue to ensure that there is an indoor or covered space you can utilize in the event that it rains, or is too hot for guests to sit without shade.
Arrange for Someone to Gather Cards and Gifts
At the end of your evening, the last thing you are going to want to think about is what to do with cards and gifts that your guests have brought. Find a friend or family member that is willing to gather up your cards and gifts and either hold on to them until after your honeymoon or deliver to your home.
Pack for your Honeymoon
This is probably one of the last things you want to do before your wedding, but take the time to pack at least a few days before your big day. With all of the other things you are thinking about, this will give you time to remember forgotten items, watch the weather and add or remove items from your suitcase. Packing ahead of time also makes your departure on your honeymoon a little more relaxing.
As you get closer to your wedding and are finalizing your plans, don't forget the little details. Covering the little details before your wedding will help you enjoy your day with as little stress as possible. The professionals at Vatican Banquet Hall can help you through every little detail and make sure there is nothing left forgotten. Contact us today and see how we can help you plan the wedding of your dreams.