A bride and groom are sure to be given all the essentials like towels, sheets, pots, pans, place settings, and glassware for their wedding. But if you want to do something extra special and unique that the newlywed couple will be sure to love, then consider giving one of these ideas. The bride and groom will love getting something that isn't off of the traditional registry list and that is something fun just for them to enjoy.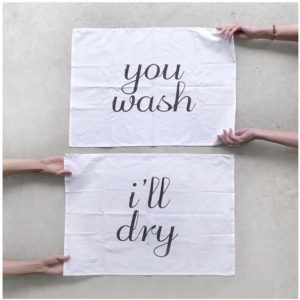 Matching Dish Towels
See the kitchen towel set on Pinterest with one saying "You Wash" and the other "I'll Dry"? Did you pin it to one of your folders? Totally! They are super cute and fun and a newlywed couple would love to showcase them in their new nest together. While being very practical, these cute kitchen towels are a fun conversation piece.
His and Her Coasters
A foodie couple that also loves some fine wine, cocktail creations, brews, and great coffee will love a fun place to set their glass or morning mug. Check out Etsy to see if you can find a maker that sells monogram coasters, or simply choose an already-made set that says his and hers.
Ring Dishes
One thing that's for certain is newly married and engaged girls love showing off their rings. Give the couple a cute double ring dish for them to place their rings before bed, or beside the bathroom or kitchen sink. They can be customized with the couple's names or initials, or simply cute nicknames like "hubby" and "wifey." A newlywed couple isn't used to wearing rings every day yet, so an extra dish to protect rings from slipping down sinks when doing the dishes or brushing teeth will be appreciated.
Matching Mugs
A couple just can't start off their marriage without adorable, matching mugs. No matter if they prefer coffee or tea, the newlyweds will love waking up every morning and relaxing before bed with a Mr. and Mrs. mug.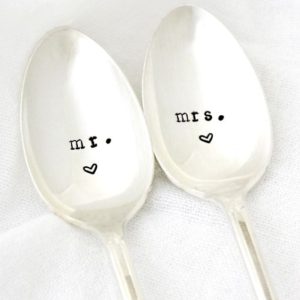 Stamped Spoons
Ice cream will become even sweeter with a stamped silver spoon set that reads Mr. and Mrs. or Husband and Wife.
Marriage Pillow
Newlywed couples can always use a hand with décor pieces to fill their home and a pillow that says Mr. and Mrs. will be so sweet and cozy on a bed, couch, bench, or chair. What a perfect opportunity for snuggly nights in!
Monogram Door Hanger
What newlywed couple doesn't love shouting to the whole world that they are married? Give them a way to announce their everlasting love with a door hanger customized with the couple's initials and date of their wedding.
Tickets to a Class
If you love getting people experiences more than buying them gifts, a perfect idea for a newlywed couple would be a cooking class, mixology class, or a sexy lap dance class. They will be getting tons of cute objects for their home from friends and family, so give them something they can get out of the house with and enjoy each other's company.
If you don't want to have to give a newlywed couple another platter, you don't have to! Instead, the couple would love to receive something that is fun, playful, and lets them celebrate their new life together in style.