Metallics, naked cakes, live bands, and flowerless centerpieces; the new year is sure to be filled with many exciting and genre-bending wedding innovations. To help all our couples stay on point for their 2016 wedding ceremonies and receptions, Vatican Banquet Hall's insightful event planners have started making predictions about the hottest wedding trends for the coming year! Check it out!
[fusion_builder_container hundred_percent="yes" overflow="visible"][fusion_builder_row][fusion_builder_column type="1_1″ background_position="left top" background_color="" border_size="" border_color="" border_style="solid" spacing="yes" background_image="" background_repeat="no-repeat" padding="" margin_top="0px" margin_bottom="0px" class="" id="" animation_type="" animation_speed="0.3″ animation_direction="left" hide_on_mobile="no" center_content="no" min_height="none"]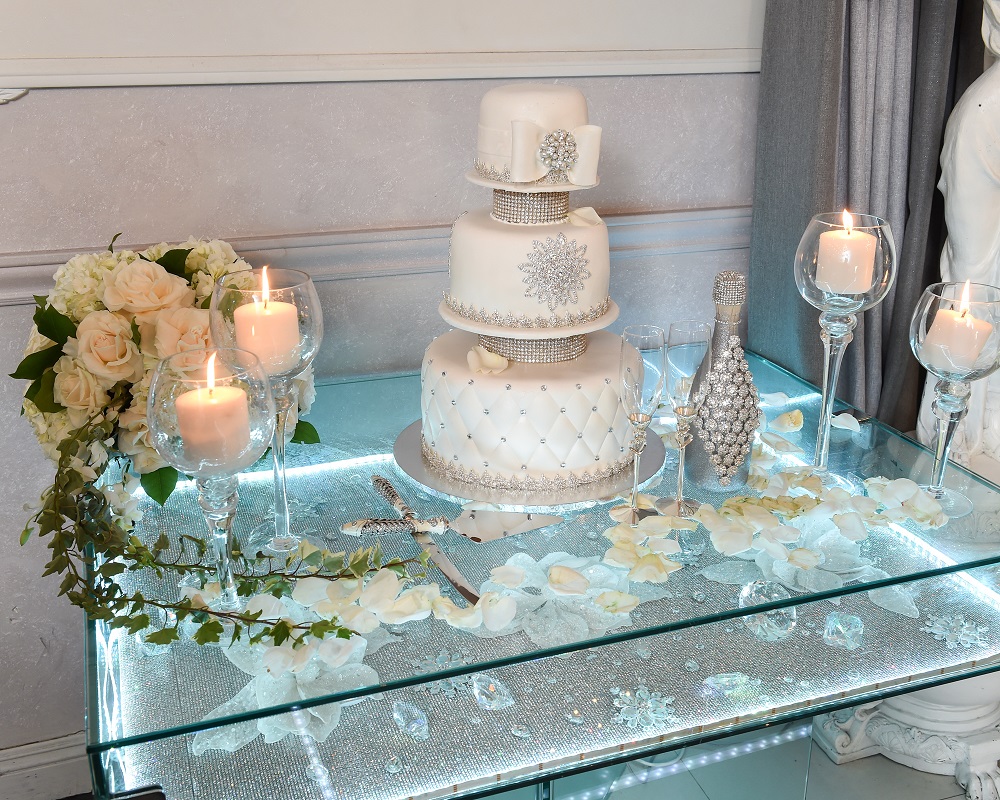 Metallic Colors
Shimmery metallics began to appear during 2015's fall and winter weddings, and we fully anticipate this trend continuing throughout 2016. Look for rose gold accents on tables, shiny blushes on wedding cakes, and glittery silvers and golds on wedding invitations.
There's No Place Like Home
Many couples living in places like New York and Los Angeles didn't grow up there, and these couples are now transporting elements of their home states or regions – think Philly cheese steaks for Pennsylvania natives or cowboys for Texans – into their wedding decor, catering, and themes. Dubbed "the new destination wedding," this trends helps guests experience the things you love so much about your home.
Unique Seating Arrangements
For years, round tables have dominated the wedding reception scene, but we predict 2016 receptions will see an influx of long, rectangular tables or a mix of long tables and smaller, square tables. This setup creates an intimate "dining hall" atmosphere while maximizing a wedding venue's space.
Flowerless Centerpieces
Not only are non-floral centerpieces easier on the budget, but eschewing bountiful bouquets for potted trees, succulents, ferns, and sprigs is a fantastic way to differentiate your decor from wedding receptions of yore. Better still, guests can even take your centerpieces home with them without fear that they'll be dead in the morning!
His & Her Cocktails
It seems like each year, our couples (and in turn, their guests) have more refined palates when it comes to classy cocktails like martinis, old fashioneds, and juleps. In 2016, expect more weddings to feature "His & Her Cocktails" that reflect the bride and groom's respective personalities and spirit preferences.
Naked Cakes
The term for a cake which is unfrosted, naked cakes sprang onto the wedding scene in 2015 and show no signs of letting up in 2016. Not only are these cakes simple and elegant, they are also healthier and (often) less expensive than their predecessors.
Creative Photography
Candid action shots have dominated the wedding photography scene in the last few years, but a new trend is now on the horizon: drone photography! Expect awesome fly-overs, brilliants aerial shots, and impossible-to-get-any-other-way hovering videos![/fusion_builder_column][/fusion_builder_row][/fusion_builder_container]