Speeches are a favorite part of every wedding celebration, but time constraints usually mean that only a few people are permitted to stand up at the wedding reception and offer their congratulations to the bride and groom. But what about the hundreds of other guests who wish to express their adoration or offer advice to the newlyweds? Cards are nice, sure, but nothing compares to the emotions conveyed through a heartfelt speech.
Now, a new service called SpeechBooth allows everyone at the party – not just the closest relatives, Best Man, and Maid of Honor – to self-record their own short video speech for the special couple. If you're interested in hearing what everyone at your party has to say to you on your wedding day, read on for more details!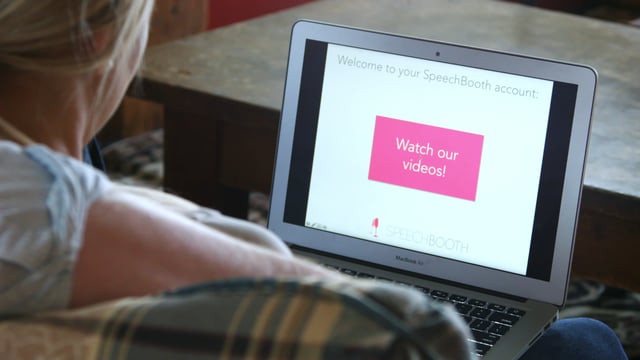 What Is SpeechBooth?
Founded by tech entrepreneur Dan Slagen, the Boston-based SpeechBooth uses a simple iPad Air touch screen, a microphone, and a light to record hours (if necessary) of speeches with the click of a button. The device requires very little setup and absolutely no supervision during the wedding ceremony or reception, making it the perfect way to entertain guests and avoid long-winded "personal speeches" in the middle of your big wedding celebration. Better still, the videos don't require any editing; couples simply send the device back after their wedding day, and within 10 days they'll receive an edited version of all the speeches, a 2-minute-long "highlight reel," and the full-length video of raw video (all in 1080p HD), all accessed via The Cloud.
The SpeechBooth Video Booth Includes:
A sturdy, fully-assembled tripod
One professional unidirectional microphone and connection cables
A bright LED light
Personalized iPad with the SpeechBooth app.
Return address label with prepaid postage
Video editing and access to videos included, free of charge
Want to see how it works? Watch the short promotional video below!
SpeechBooth is a Great Value
While most professional photo booths or video booths can cost anywhere from $1,000 to $2,000, one SpeechBooth kit will cost couples only $499.
"Right now, the average wedding brings in about 60 to 70 speeches, but our storage capacity allows for three times that, and we haven't run into storage issues," Slagen recently said in an interview with VentureBeat, a publication for new business ventures. "If someone has a larger wedding or event, we can send multiple kits or work with people to customize a larger storage capability."